*We may earn an affiliate commission if you purchase something through recommended links. As an Amazon Associate, I earn from qualifying purchases.
I got the garden planted this weekend!! It rained buckets and the weather app warned of areal flooding here in Eastern Oregon, but I stuck it out and hid all of the seeds in the new dirt we've been preparing all Spring! All that is left to go in are the seeds I started in the greenhouse back in April and although those seeds have sprouted and are growing, the starts aren't quite hardy enough for me to give the ok for them to leave the greenhouse.
Check out these posts for more information on our greenhouse and garden journey!
As I was making my garden plans this year, I knew I wanted to include a variety of leafy greens. Summer seems so perfect for salad, doesn't it? And eating a salad that was grown entirely in your own garden is extremely satisfying!
There are so many reasons to add lettuce to your garden and your summer plate.
Side Hustle
Over the past several years I've noticed that we can't ever seem to eat the abundance from even just one packet of lettuce seeds so I have taken to giving away or selling our excess.
This year's side-hustle from my garden is definitely lettuce! I planted eight different varieties (ok, bok choy is technically a cabbage, but you get where I'm going with this) in two full rows in the garden. My garden side-hustles are meant to pay for next year's garden seeds, potting soil and supplies… and maybe an iced tea in town one day!
Easy to Grow
Lettuce is a super easy grower and can be grown in pots if you are limited on space. You can feed yourself all summer long by using a cut-and-come-again method of harvesting (just as the name suggests, you cut the plant–leaving the crown–and then let it grow again) and by doing successive plantings. Depending on your weekly consumption of greens, growing your own salad can save you and your family up to $10/week just on the greens alone!
Health
When my Mom lived with us, we really had to be conscious of her leafy green intake because of drug interactions. Most of us can only benefit from the multitude of vitamins, minerals, fiber and more contained in each forkful of this homegrown powerhouse! Here are 5 health benefits of eating your leafy greens to round out my 7 reasons for growing greens:
Anti-Aging and Skin Health. The vitamins and pigments in leafy greens help protect and build your skin.
Liver Support. Your liver is one of your body's cleaners and it needs help to stay working at peak efficiency. Choline found in leafy greens supports your liver function.
Weight loss. Have you ever checked out how few calories there are in a big bowl of salad? You can fill up and keep your body going for a long time which will help burn excess fat.
Antioxidants. Antioxidants help with cardiovascular health, cognition and eye health!
Cancer Fighter. Loaded in micronutrients, leafy greens help protect and build your body's cells and keep them healthy and functioning optimally.
Personally, I don't eat enough of this amazing source of nutrients. The USDA recommends that the average person gets 2-3 cups of vegetables every day. According to Harvard Health, it takes 2 cups of raw greens to fulfill the nutritional equivalent of one cup of veggies. Chris Wark from Chris Beat Cancer recommends up to 10 cups of leafy greens per day to protect your body from and fight cancer cells.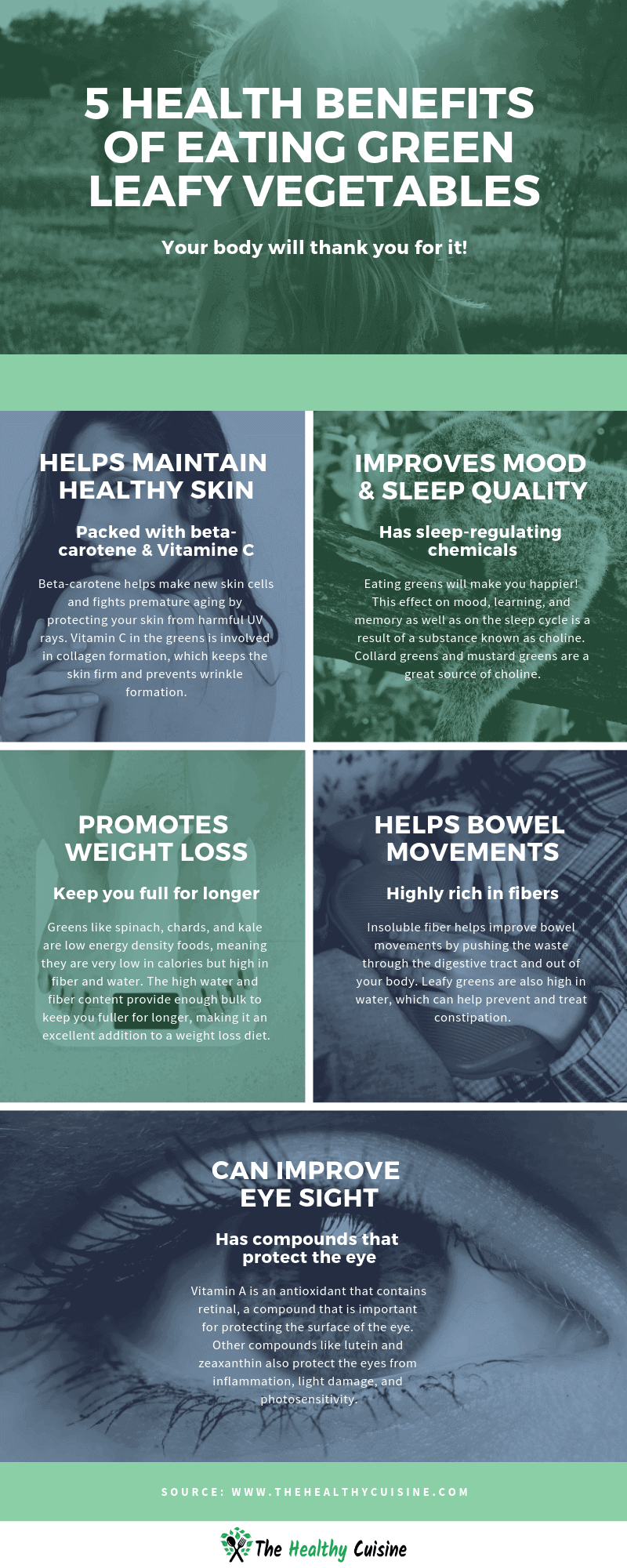 Check out more information and sources from The Healthy Cuisine.